Six Of Wands
All About Six Of Wands, One of The Minor Arcana Tarot Cards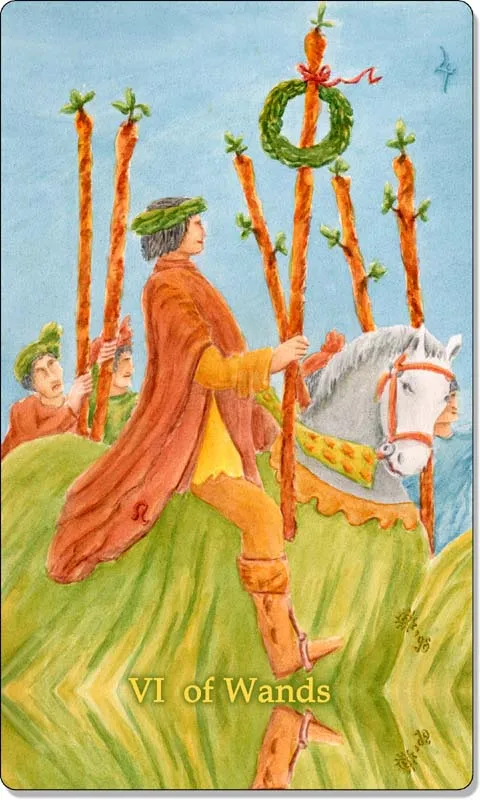 Six Of Wands Description
Victory
Public Acclaim / Recognition
Award / Qualification
On a personal level the Six of Wands is one of the most favored suit cards. It symbolizes recognition for one's hard efforts.
Challenges and obstacles have been overcome and your accomplishments have been recognized. One feels like they have been given the seal of approval.
More About Six Of Wands
Learn More About All The Meanings Of Six Of Wands Tarot Card
Six Of Wands Upright
Laziness and activity duality. Progress with dedication, person who loves the house. Triumph after the fight. Earnings. Your inner strength shines. You have achieved a victory. You consider your vitality as a cosmic gift that you share with others. Serfdom, lack of character. Inability to impose one's will. Affective dependence. He lets himself be dominated too much by his partner. The client is limited in his earnings with obstacles to achieve something better. Physical plane.- Abdominal problems, intestinal laziness, cutaneous infections. Vice for sweets.
Six Of Wands Reversed
Insignificance, fear of the future, bad news, bureaucratic papers, disloyalty. Disposition to vegetarianism. Female sex, indication of varicose veins Falling in love, indecision by the couple. New aids you can trust. Possibility of solutions to the economic situation.
---
More Cards From The Suit Of Wands
Click The Card To View It's Meaning
---
More Card Meanings
Check Other Card List