Five Of Cups
Five Of Cups Card In Tarot - Tarot Card Meanings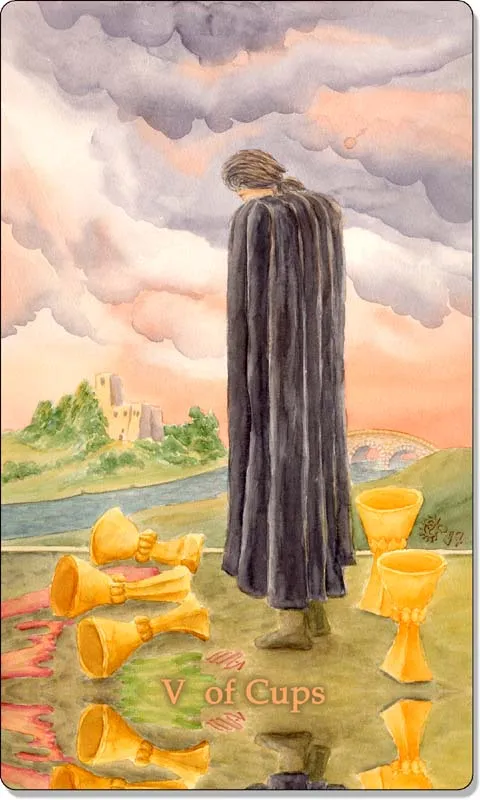 Five Of Cups Tarot Card Meaning
The Five of Cups like all fives is not a particularly welcomed card. It represents loss on a personal and emotional level. A betrayal of some sort has caused the relationship to break down, although if there is a separation it would be temporary.
Although this card symbolizes sadness and disappointment there is still an element of hope. This relationship still has hope if both parties can forgive and forget and move on.
More About Five Of Cups
Learn More About All The Meanings Of Five Of Cups Tarot Card
Upright Five Of Cups Meaning
Sadness concerns, Possible separation, worries, fights, betrayal of loved ones, marriage with lack of love, commitments that break, abuse of trust. Fate hits you hard and takes you to depression. Your heart feels empty, you feel alone. Heritage legacy or favorable testament, pleasant surprise, satisfactions through the children. You will test your partner. Extra profits, compensations, smart purchase of plots houses. Diabetes problems, sunburn, burns and depression.
Reverse Five Of Cups Meaning
Wrong life, new alliance, anxiety for changes, problems with surprises, wrong way of life. Family harmony and with the couple, family business, economic security. Danger of congenital and hereditary diseases, embolism.
---
More Cards From The Suit Of Cups
Click The Card To View It's Meaning
---
More Card Meanings
Check Other Card List