Three Of Cups
Three Of Cups Card In Tarot - Tarot Card Meanings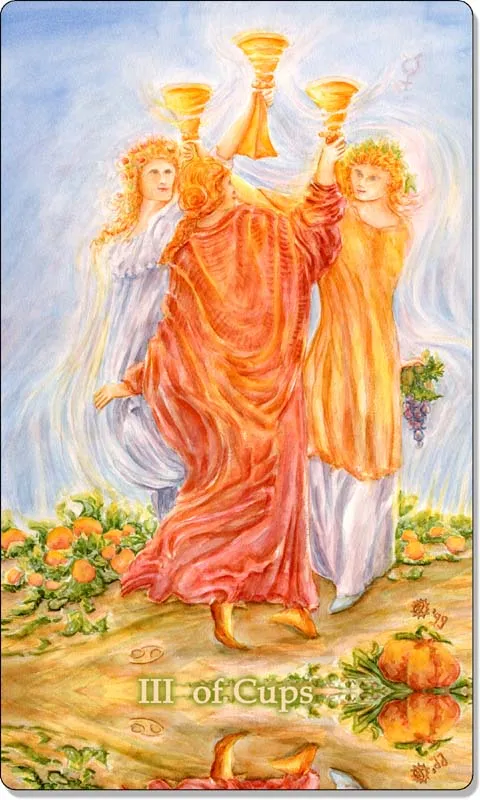 Three Of Cups Tarot Card Meaning
Celebrations
Gatherings
Weddings
Successful Teamwork
The Three of Cups is a card of happiness, celebration and merriment. Friends old and new are gathered to toast either a wedding, christening, Christmas, Birthdays are whatever.
A social event where people are enjoying themselves, there's chitter chatter and laughter and everyone's in high spirits.
A relationship may achieve a new level of commitment.
More About Three Of Cups
Learn More About All The Meanings Of Three Of Cups Tarot Card
Upright Three Of Cups Meaning
tenderness sincerity. In love you are a tender and sensitive person. Improvement in all the factors that surround the client. Health and vitality renewed, birth, success in love, exit from what has us worried, augurs good term in business, indicates celebration, happy delivery. Happiness and fulfillment Victory healing and relief, organic improvement, compensated ideal weight, reestablishment of emotional sexual relations with the couple. The losses come to an end. Business that starts to bear fruit. Money recovery.
Reverse Three Of Cups Meaning
Egoism and sensuality, exploitation of the people around us; obesity, promiscuity, diseases associated with tobacco, excesses of food and alcohol. The opportunities should be exploited to the fullest. Pneumonia in winter, strong allergies in summer, excess spots and freckles on the skin. Sexual indecision, This card ensures economic stability.
---
More Cards From The Suit Of Cups
Click The Card To View It's Meaning
---
More Card Meanings
Check Other Card List