Nine Of Cups
Nine Of Cups Card In Tarot - Tarot Card Meanings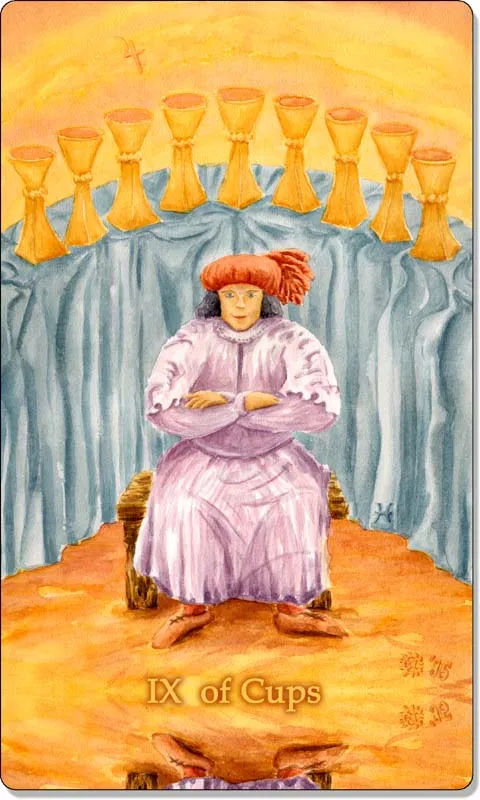 Nine Of Cups Tarot Card Meaning
Wish Card
Happiness/Contentment
Fulfilment
The Nine of Cups is sometimes called the wish card and one of the most welcomed of the suit cards. When we experience the energy of this card we feel joyous, we're over the moon and things couldn't be better. This is a time when dreams and aspirations manifest and the rewards are sweet.
More About Nine Of Cups
Learn More About All The Meanings Of Nine Of Cups Tarot Card
Upright Nine Of Cups Meaning
Satisfaction and physical well-being, assured future and material success, clear and precise intellectual capacity, inclination to form societies and groups. Possible business association. Reward for efforts, improvements in family relationships. Formalization of a relationship. Fertility. True love, knowledge, Satisfaction for work done, excellent health even in old age, healthy life, honesty of feelings, wisdom in sexual intercourse. Total love. Economic awards, winnings in contests, important gifts. This letter heals the pains.
Reverse Nine Of Cups Meaning
Waste that leads to shortage of money, credit losses, abuse of hospitality, vain person. Parkinson's disease, delicate skin. Lack of communication in the marriage. Credits in disadvantageous conditions. Partial loss of capital. Maladministration
---
More Cards From The Suit Of Cups
Click The Card To View It's Meaning
---
More Card Meanings
Check Other Card List