Two Of Cups
Two Of Cups Card In Tarot - Tarot Card Meanings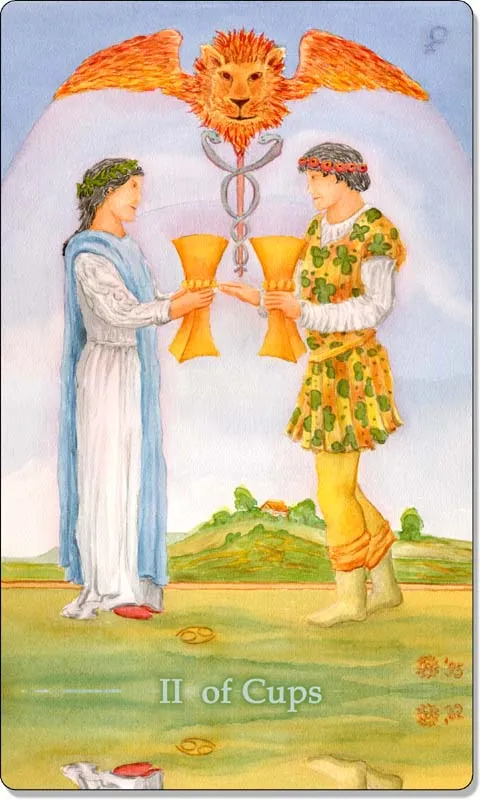 Two Of Cups Tarot Card Meaning
Unions / Reunions
Partnerships
Love
The Two of Cups almost reflects the honeymoon period in a relationship when things are still relatively new but emotionally things seems more cemented.
Neither party can see a fault or a flaw in the other. Think rose-tinted glasses, excitement, emotional harmony and sometimes even blind love.
Business partnerships or contractual agreements are also implied. The Ace of Cups represents unions or maybe reunions.
More About Two Of Cups
Learn More About All The Meanings Of Two Of Cups Tarot Card
Upright Two Of Cups Meaning
LOVE Letter of love, You find your ideal partner. Marriage, reconciliations, friendships, contracts between partners, new friendships or harmony at work, physical and mental strength. Mentality, charitable works, solidarity passion, Magnificent news. Psychic experience through the ear, deep infatuation, receipt of financial aid, stable but limited income. Cardiac weakness, auditory hypersensitivity.
Reverse Two Of Cups Meaning
Envy and jealousy, fights and misunderstandings, divorce separation, unrequited love, infidelity, bad associations, confusion. Attempt to compete with others. Bigamy, emotional insecurity, and sexual, The consultant will be forced with economic responsibilities that do not concern him. Exaggerated cellulitis, morning neurosis, Physical deformity due to fat accumulation. Exaggeration and abuse of sexuality.
---
More Cards From The Suit Of Cups
Click The Card To View It's Meaning
---
More Card Meanings
Check Other Card List