Knight Of Pentacles
Knight Of Pentacles Card In Tarot - Tarot Card Meanings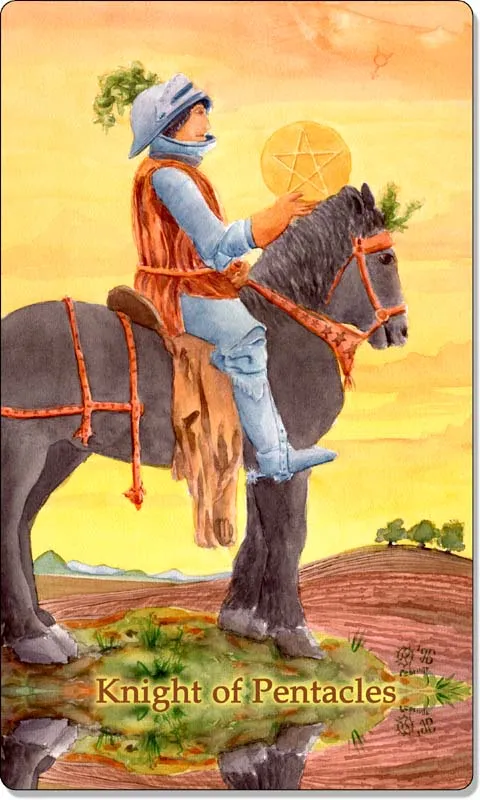 Knight Of Pentacles Tarot Card Meaning
The Knight of Pentacles is a hard working soul, he is quiet and humble and reliable. He may not be too imaginative but it's his patience and perseverance that will lead him to his achievements. This card can signify a phase when we should embody these traits and use hard work and determination to ensure that our own dreams and aspirations are achieved.
More About Knight Of Pentacles
Learn More About All The Meanings Of Knight Of Pentacles Tarot Card
Upright Knight Of Pentacles Meaning
Perseverance in the fight, realistic person. Ambitious and somewhat intriguing, tenacious in the struggle to succeed and achieve material goods. Person over 21 years and under 35 years of blond hair and fair complexion. Travel for pleasure. Visual astigmatism and deficiency. Sexual and affective apathy. good health. Triumphs and economic conquests, ability and perseverance to achieve the proposed economic goals. Suggestions or ideas that other people can transmit will help you.
Reverse Knight Of Pentacles Meaning
Be complacent timid, but greedy distrustful and greedy, favorable letter to ambitious players, for people who handle money from others. Excessive laziness discouragement, anxieties and worries, chronic acne, physical or surgical sterility, emotional apathy, disengagement of the children, avoidance of emotional responsibilities, economic dependence on a wealthy friend, air of greatness, idleness.
---
More Cards From The Suit Of Pentacles
Click The Card To View It's Meaning
---
More Card Meanings
Check Other Card List