The Magician
All About The Magician, One of The Major Arcana Tarot Cards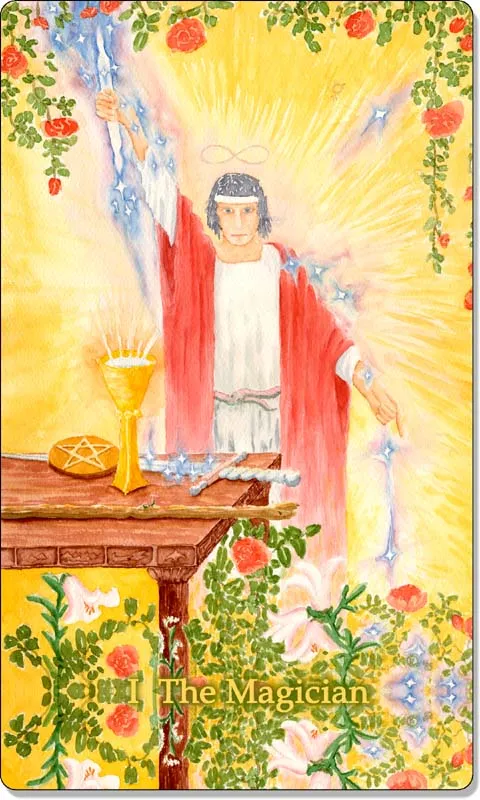 The Magician Description
When Magician appears in a spread we can expect opportunity to knock at the door out the blue. Any skills or resources necessary to see a project get off the ground will be made available to us. The Magician can also appear in our lives as a cheeky chap character with confidence and a charismatic flair for translating ideas into productivity.
The Magician has the gift of the gab and uses his charm to his advantage, a born salesman he could sell sand in the desert.
More About The Magician
Learn More About All The Meanings Of The Magician Tarot Card
Magician Upright
Represents creativity and originality, ability to carry out a task. Originality, creativity. The consulting, the conscious, the psychological. Physical plane.- strength to get out of diseases, good health. Active will, masculine energy, creativity, action, intuitive knowledge of the secrets of life and the Universe. Awareness of the means that as a person you have received in your hands. Self responsibility Self-realization Use magic only for good. Strength for everything that is undertaken, skill, commercial ability, changes that open around us, person with feet on the ground, trustworthy but not sentimental, who knows how to face reality.
Magician Reversed
It indicates the existence of a weak will, indecision, lack of aptitude, insecurity, restlessness, delay and lack of imagination. lies, vanity, egocentrism. Next to the tower, the devil or possible death I work black or green magic. If it is next to the priestess, the magic is done. Chattering, and magician's skill for deception. Situations that get out of control.
---
Pick Another Card That Interests You To Know It's Meaning
Click The Card To View It's Meaning
---
More Card Meanings
Check Other Card List